Today, Gay and I met for the first time....(as far as we know, we are the only CKMBers from Richmond). We had a GREAT day!!
First, we went to a LSS (I had never been there and it's a gorgeous store!). We sat in their back room and played show and tell with our SB's and SS albums...I told her she HAS to start her own IG...I love her books!
Then, we spent SOME time shopping at the store...
After going to lunch, came the most fun part of the day...The Dollar Tree!! The ones I go to don't have anything pretty to use for the SS albums, weeeeell this store was different...Gay had already been lucky with a $ Tree before, but still found things here...I, on the other hand, was told by the cashier BROKE THE RECORD on purchasing SB items at that store...
Before we left, we went back to the first store and asked the clerk to take pictures of us to scrap and share with you!!!
Here they are...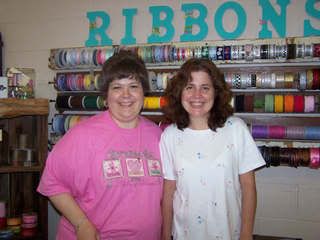 Ready to make some more SS Albums!!!